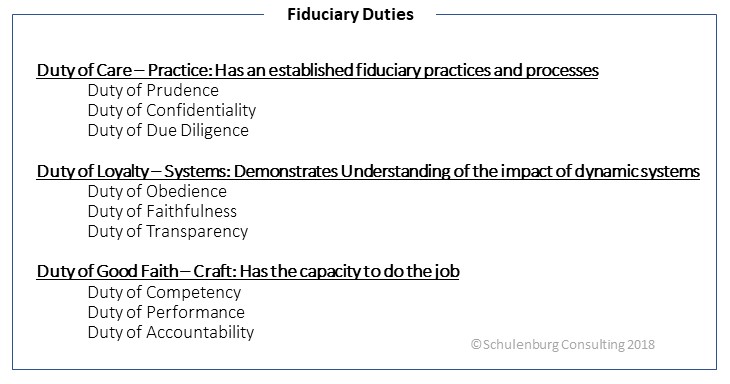 Every director and officer is legally bound to fulfill their fiduciary duties to the highest standard.
When navigating fiduciary risk at the highest level of corporate leadership, it is essential to have a consistent standard of excellence that governs the actions and behaviors of these key leaders.
Schulenburg Consulting provides twelve fiduciary standards that set the benchmark for excellence and provides the framework that supports the growth of each fiduciary.
These standards have been developed through extensive research into claims against directors and officers while serving as fiduciaries. Through this research, core standards have been identified that govern the actions of each leader.
There are three recognized global fiduciary duties. These duties are: Duty of Care, Duty of Loyalty, and Duty of Good Faith. Under each of these three categories are additional and equally as important duties that further operationalize the fiduciary actions required of each leader.
These twelve duties are memorialized through the 42 Competencies that measurably demonstrate each leader is performing their fiduciary duties at the highest standards. It is through these 42 Competencies that fiduciary excellence is demonstrated, measured, and validated to beneficiaries, stakeholders, constituents, peers and governing entities.