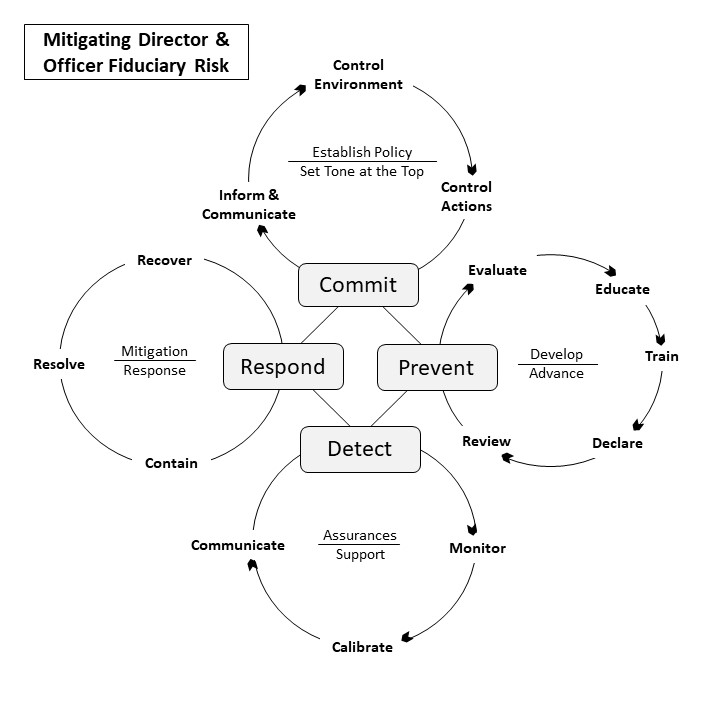 High levels of performance and fiduciary excellence are only achieved through conscious intention. For a leader to harvest their fullest potential and fulfill their fiduciary duties with minimal exposure to risk, they must have an acute awareness into the core drivers that inform their decision process.
This proactive approach supports the growth of each fiduciary and helps them gain insight into the multiple variable and drivers that influence their decision process, and the sequencing of these decisions.
This framework provides a prudent process that sets the framework to protect and advance each fiduciary. This process cycles across four phases designed to wrap around each fiduciary and provide them essential competencies on the twelve fiduciary standards.
These four phases are: Commitment – Prevention – Detection – Response.
Commitment: Commitment begins at the top of the organization and is reflected at the board level through sound governance practices. Commitment at the board level defines intention of the senior fiduciaries and is operationalized through the Fiduciary Charter. The Fiduciary Charter defines the intention of the Board of Directors and their ongoing commitment to fulfilling the fiduciary promise.
Prevention: As a proactive process, prevention is the heart of the work. Prevention takes form through two aspects – Education and Training. For each fiduciary, a solid education on the 12 Standards and related competencies sets the baseline for growth and mitigating risk. The training takes the education to the next level and directly applies it to each fiduciary leader. This approach instills deeper understanding of the material, and the zones of risk encountered by each leader.
The training and education of each director and officer is essential in mitigating fiduciary risk. The training and education is divided into five levels. These five levels serve as a progressive pathway that not only educates them on essential issues of being a fiduciary, but also trains them to handle the dynamic nature of being a fiduciary.
Level 1 – Duty of Loyalty: Understanding the Foundation of Trust
Level 2 – Duty of Good Faith: Intention and ability to fulfill obligations
Level 3 – Duty of Care: Understanding systems
Level 4 – Duty of Prudence: Wisdom and a vision toward future
Level 5 – Integration: Being a Fiduciary
Detection: As an ongoing and dynamic process, the detection phase takes the form of regular debriefs that ensure the integrity of the work, and alignment of each leader with their core intention as a fiduciary. This phase generates the essential documentation that reflects the nature of the work, and establishes an integrity-chain that helps protect each leader from claims.
Response: During the response phase Schulenburg Consulting serves as an unencumbered resource for each organization. Tactical solutions are mobilized to decrease the latency period between discovery and impact of any fiduciary breach. This provides an opportunity for remediation or further training.